Lilo &amp Stitch 2
Lilo &amp Stitch 2: Stitch Has a Glitch (2005)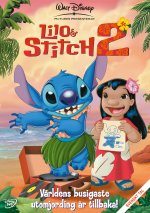 DVD-omslag från 2005. VHS-utgåvan har samma omslagsbild. © Disney.
Den hawaiianska flickan Lilo lever ett tryggt familjeliv tillsammans med sin storasyster Nani och den blå utomjordingen Stitch. Stitch är vanligtvis snäll som en hund, men något märkligt håller på att hända. Stitch får periodiska stygghetsanfall som alltid kommer när det är som minst lämpligt. Lilo hoppas på att vinna barntävlingen i huladans, men Stitch får ett anfall i ett avgörande ögonblick. Doktor Jumba tänker ut ett sätt att bota Stitch genom uppladdning i en speciell fusionskammare. Men tiden är knapp. Stitch måste behandlas innan hans snällhet har runnit ut helt och hållet, annars kommer han att dö...
Lilo & Stitch 2 är en uppföljare som utspelar sig efter Lilo & Stitch, men före Stitch! - Experiment 626 och före tv-serien.
Röster
Engelska originalröster
Stitch
Chris Sanders
Lilo
Dakota Fanning
Nani
Tia Carrere
Jumba
David Ogden Stiers
Pleakley
Kevin McDonald
Kumu
Kunewa Mook
David
Jason Scott Lee
Myrtle
Liliana Mumy
Elena
Jillian Henry
Aleka
Holliston Coleman
samt
William J Caparella
Matt Corboy
Jennifer Hale
Emily Osment
Paul Vogt
Svenska röster
Lilo
Sandra Kassman
Stitch
Andreas Nilsson
Nani
Anna-Lotta Larsson
Jumba
Stefan Ljungkvist
Pleakley
Johan Svensson
David
Johan Svensson
Kumu
Roger Storm
samt
Charlotte Ardai Jennefors
Dick Eriksson
Blenda Nyman
Matilda Smedius
Norea Sjöquist
Sånger
"Always"
Musik:
Jeanine Tesori
Text:
Alexa Junge
Hawaiiansk text:
Dennis Kamakahi
Framförd av:
Mark Keali'i Ho'omalu, Dennis Kamakahi, David Kamakahi, Hayley Westenra, Johnson Enos
Kör:
John Batdorf, Johnson Enos, Jon Joyce, Rick Logan, Guy Maeda, Bobbi Page, Dimitri Toscas, Terry Wood
Barnkör:
Benjamin Byram, Brianna Fischette, Chalice Fischette, Nicholas Harper, Rowen Merrill, Zoe Merrill, Jessica Rotter
Arrangemang:
Joel McNeely, Jeanine Tesori, Scott Erickson
Koreografi:
Kunewa Mook
Dansare (referens för animatörerna):
Majicka Roberts
"Hawaiian Rollercoaster Ride"
Text och musik: Alan Silvestri, Mark Keali'i Ho'omalu
Remix och kompletterande produktion: Tony Phillips
"I Need Your Love Tonight"
Text och musik: Bickley Reichner, Sid Wayne
Sång: Elvis Presley
"Rubberneckin'"
Text och musik: Bunny Warren, Dory Jones
Sång: Elvis Presley
"Little Less Conversation"
Text och musik: Billy Strange, Scott Davis
Framförd av: Elvis Presley, JXL
"He Makana Ke Aloha (A Gift of Love)"
Text och musik: Kunewa Mook
"Hawaiian Rollercoaster Ride" (End credit version)
Text och musik: Alan Silvestri, Mark Keali'i Ho'omalu
Sång: Jump5
Svensk produktion
Dialogregissör:
Peter Sjöquist
Dialogöversättning:
Robert Cronholt / Mediaplant
Inspelningsstudio:
Sun Studio
Inspelningstekniker:
Robert Iversen, Rickard Sporrong
Projektledare:
Anna Lundström
Studioproducent:
Svend Christiansen
Kreativ ledning:
Kirsten Saabye
Svensk version producerad av:
Disney Character Voices International, Inc.
Produktionsfakta
Directed by:
Tony Leondis, Michael LaBash
Produced by:
Christopher Chase
Screenplay by:
Tony Leondis, Michael LaBash, Alexa Junge, Eddie Guzelian
Unit director:
Kelly Baigent
Unit producer:
Kara Lord Piersimoni
Edited by:
William J Caparella
Voice casting:
Jamie Thomason
Original score composed and conducted by:
Joel McNeely
Art director:
Maryann Thomas
Associate producers:
Angi Dyste, Chrisie Rosenthal
Workbook supervisors:
Olivier Adam, Stephen G. Lumley
Layout director:
Olivier Adam
Animation supervisor:
Pieter Lommerse
Technical director:
Brian Cole
Digital director:
Damian Temporale
Effects supervisor:
Julian Hynes
CGI supervisor:
Matthew Jones
Background supervisor:
Piero Sgro
Clean-up supervisor:
Nicole Zarubin
Inbetween supervisor:
Michael Pattison
Scene planning & composite supervisor:
Jeannette Manifold
Paint supervisor:
Ania Forster
Check & scan supervisor:
Chris O'Connor
Production managers:
Danielle Legovich, Margaret Yu Mallari
Lead story artists:
Viki Anderson, Becky Cassady
Story artists:
Peter-Paul Bautista, Chen-Yi Chang, Amber DeForest, Nick Filippi, Kirk Hansen, Chong Lee, Jennifer Lerew, Lonnie Lloyd, Alex Mann, Linda Miller, Zac Moncrief, Toby Shelton, Chris Ure, Kelly Wightman
Production designer:
Dennis A. Greco
Character design:
Ritsuko Notani
Location design:
Colette Van Mierlo
Background design:
Dee Farnsworth, Donna Prince, Bi Wei Tronolone
Color stylist:
Tracy Jones
Prop design:
Marty Warner
Lead layout artist:
Vic Villacorta
Workbook artists:
Marc Camelbeke, Jean-Christophe Poulain, Tanya T. Wilson
Senior layout artists:
Abeth Dela Cruz, Andrew Wolf
Layout artists:
Archi Bolina, Alex Casin, Jason Hand, Mina Ho-Ferrante, Vincenzo Nisco, Gener Ocampo, Mark Sonntag, Lisa Souza, Allen Tam, Colette Van Mierlo, Tanya T. Wilson, Chung Sup Yoon, Zhiqiang Ding
Supervising animators:
Kevin Peaty, Robert Mason, Noel Cleary, Manny Banados, Nadine Wagner-Westerbarkey, Stephen Baker
Senior animators:
Carol Seidl, Myke Sutherland, Lianne Hughes, Andries Maritz, Adam Murphy, Simon Ashton
Lead animator:
Davide Benvenuti
Animators:
Michael Badman, Donna Brockopp, Deborah Cameron, Manuk Chang, Nicolas Debray, Lily Dell, Jonathan Dower, Brian Estanislao, Dawn Lam, Kathie O'Rourke, Royce Ramos, Jocelyn Sy, Kevin Wotton, Samantha Youssef, Richard Bailey, Tristan Balos, Andrew Brooks, Farouk Cherfi, Federico Ferrari, Kayn Garcia, Rowena Hamlyn-Aspden, Gie Santos, Nowell Villano, Florian Wagner, Tom Caulfield, Nancy Beiman, Jerome Co, Allan Fernando, Warwick Gilbert, Hiromi Kakinuma, Satjit Matharu, James McGinlay, Tobias Schwarz, Rizaldy Valencia, David Wilkinson
Effects lead:
Marvin Petilla
Senior effects animators:
Darren Keating, Olivier Malric, Adam Phillips, Madoka Yasuet
Effects animators:
Edwin Bocalan, Stephen Deane, Michael Leske
Effects assistants:
Jon Baker, Carol Bocalan, Roehl De Guzman, Paul Fogarty, Ben Grimshaw, Phoenix Leonard, Alex Major, Adriano Mondala Jr., Stuart Packwood
CGI lead:
Lajos Kamocsay
CGI animators:
Simon Alberry, Sean Aspinall, Robert Baxter, Gina Di Bari, Eric Grimenstein, Hock-Lian Law, Andrew Kimberley, Ian Richards, Greg Smith, Alexander Stavrev, Sheryl Sardina Sackett
Background lead:
Beverley McNamara
Background artists:
Barry Dean, Dee Farnsworth, George Humphry, Jerry Liew, Pierre Lorenzi, Patrick Muylkens, Sara Rivers, Bernard Yohalin, Chung Sup Yoon, James Zheng
Digital background artists:
Darren Carney, Ruben Chavez, Dee Farnsworth, Greg Farrugia, Carolyn Guske, Jeff Holgate, Ernest Pava, Donna Prince, Michael Rule
BG key color correction:
Dean Stanley
Videofakta
Angiven speltid:
65 minuter
Åldersgräns:
Barntillåten
Ljud på videoutgåvan:
Hifi stereo, svenskt tal
Språk på DVD-utgåvan i Dolby Digital 5.1:
Svenska, finska, engelska, isländska
Text på DVD-utgåvan:
Svenska, finska, engelska, isländska samt engelska för personer med nedsatt hörsel
Bildformat, DVD-utgåvan:
16:9 - 1,78:1 (anamorfisk bredbild)
Bildformat, videoutgåvan:
Letterbox c:a 1,66:1
Regionskod, DVD-utgåvan:
2
Distribution:
Buena Vista Home Entertainment AB
Extramaterial på DVD:
Kortfilm - "Stitchs ursprung"
Spel - "Var är Pleakley" och "Jumbas experimentprofilator"
Premiärdatum
Urpremiär på video och DVD (region 1, USA o Canada) den 30 augusti 2005.
Svensk premiär på video och DVD den 28 september 2005.
Även utgiven i samlingsbox (DVD) tillsammans med
Lilo & Stitch
den 28 september 2005.
Övrigt
Det finns ytterligare tre långfilmer och en tv-serie med Lilo & Stitch.
Bilder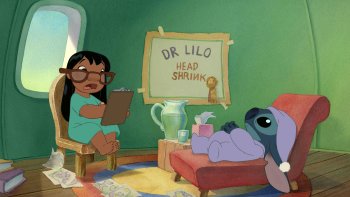 Lilo försöker tyda Stitchs mardrömmar. © Disney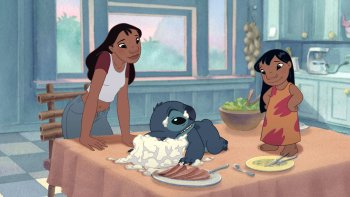 Stitch får flera anfall av stygghet i den här filmen, men även när han är snäll kan det hända olyckor. © Disney
Källor
Buena Vista Home Entertainment AB, Stockholm 2005
Disney,
Lilo & Stitch 2
(DVD-film), Buena Vista Home Entertainment AB, Stockholm 2005
Disney,
Lilo & Stitch 2
(VHS-film), Buena Vista Home Entertainment AB, Stockholm 2005
The Internet Movie Database,
http://www.imdb.com/
---
Texten på denna sida © 2005, 2006 Anders M Olsson,
[email protected]
. Bilder från
Lilo & Stitch 2
© Disney. Sidan senast uppdaterad den 9 september 2006.