Teacher's Pet
Teacher's Pet (2003)
Pinocchio
. Han ville så väldigt gärna bli en riktig poj...
Hoppsan!
Fel film! Vi försöker igen: Spot är en hund som mycket hellre hade velat vara människa. Varje dag klär han ut sig till pojke och går i skolan med de andra barnen. En dag får han se ett tv-reportage om doktor Krank, en galen vetenskapsman som påstår sig kunna göra människor av djur. Spot ser sin chans. Han måste resa till Florida där doktor Krank har sin mottagning. Men förvandlingen till människa går inte riktigt som Spot hade räknat med...
Långfilmen Teacher's Pet är en fristående fortsättning på den mycket egenartade tv-serien En jycke i klassen. Förutom den uppenbara parodin på Pinocchio innehåller filmen referenser till ytterligare minst sex klassiska disneyfilmer.
Röster
Engelska originalröster
| | | |
| --- | --- | --- |
| Spot / Scott | ... | Nathan Lane |
| Dr. Krank | ... | Kelsey Grammer |
| Leonard | ... | Shaun Fleming |
| Mrs. Helperman | ... | Debra Jo Rupp |
| Jolly | ... | David Ogden Stiers |
| Pretty Boy | ... | Jerry Stiller |
| Dennis | ... | Paul Reubens |
| Adele | ... | Megan Mullally |
| Ian | ... | Rob Paulsen |
| Principal Strickler | ... | Wallace Shawn |
| Barry Anger | ... | Jay Thomas |
| Mrs. Boogin | ... | Estelle Harris |
| Marsha / Marcia | ... | Genie Ann Francis |
| John / Juan | ... | Anthony Geary |
| Blue Fairy | ... | Rosalyn Landor |
| Beefeater | ... | David Maples |
| Trevor / Taylor / Tyler | ... | Pamela S. Adlon |
| Daddy | ... | Timothy Stack |
| Little Girl | ... | Emma Steinkellner |
| Officer White | ... | Ken Swofford |
| Younghee | ... | Lauren Tom |
| Leslie | ... | Mae Whitman |
| Conductor | ... | Kevin M. Richardson |
| Chorus | ... | Susan Boyd, Randy Crenshaw, Colin Davis, D.J. Harper, Karen Harper, Bob Joyce, Jennifer Karr, Norman Large, Edie Lehmann Boddicker, Rick Logan, Susan Stevens Logan, Megan Moore, Bobbi Page, Jessica Rotter, Dick Wells |
Sånger
"When You Wish Upon a Star"
Musik:
Leigh Harline
Text:
Ned Washington
Sång:
Cliff Edwards
"Teacher's Pet"
Musik och text: Joe Lubin
Sång: Christy Carlson Romano
Producent: Steve Tyrell
"I Wanna Be a Boy"
Musik och text: Brian Woodbury, Peter Lurye
"A Boy Needs a Dog"
Musik och text: Randy Petersen, Kevin Quinn
Arrangemang: Carl Johnson
"A Whole Bunch of World"
Musik och text: Cheri Steinkellner, Randy Petersen, Kevin Quinn
Arrangemang: Carl Johnson
"Small But Mighty"
Musik och text: Randy Petersen, Kevin Quinn
"I, Ivan Frank"
Musik och text: Cheri Steinkellner, Randy Petersen, Kevin Quinn
"Take the Money and Run"
Musik och text: Cheri Steinkellner, Randy Petersen, Kevin Quinn
Sång: Jack Sheldon
"I'm Moving On"
Musik och text: Cheri Steinkellner, Randy Petersen, Kevin Quinn
"Proud to Be a Dog"
Musik och text: Brian Woodbury, Peter Lurye, Cheri Steinkellner, Randy Petersen, Kevin Quinn
"Hot Diggity Dog"
Musik och text: Stephen James Taylor
"Mambo Del Perro"
Musik och text: Stephen James Taylor
Produktionsfakta
Speltid (på bio och NTSC video):
74 minuter
Produced by: Walt Disney Television Animation
Directed by: Timothy Björklund
Created by and executive produced by: Gary Baseman, Bill Steinkellner, Cheri Steinkellner
Producer: Stephen Swofford
Written by: Bill Steinkellner, Cheri Steinkellner
Art director: Gary Baseman
Voice casting & dialogue director: Jamie Thomason
Original underscore composed & conducted by: Stephen James Taylor
Songs by: Randy Petersen, Kevin Quinn, Cheri Steinkellner, Brian Woodbury, Peter Lurye
Supervising film editor: Nancy Frazen
Technical director: Andy Schoentag
Sound editor: Ronald Eng
Supervising timing director: Mircea Mantta
Assistant art director: Christina Long
Unit animation director: Dante Clemente
Overseas supervisor: Greg Hill
Line producer: Michael Karafilis
Associate producer: Melinda Carrillo
Lead storyboard artists: Timothy Björklund, Chuck Klein, Tina Kugler
Storyboard artists: Fred Gonzalez, Zac Moncrief, Celia Kendrick, Melissa Suber, Alfred Gimeno, Ennio Torresan Jr.
Storyboard revisions: Kim Roberson
Timing directors: Marsh Lamore, Joanna Romersa, Rick Leon
Character designer: Kim Roberson
Key location design: Jonathan C. Fisher
Prop design: Susan Crossley, Kim Roberson
Color stylist: Christina Long
Lead key background stylist: Seonna Hong
Background painters: Thomas Cain, Mary Ellen Williges
Character sculptures: Shawn Björklund
Punch up writers: Billiam Coronel, Jim Fisher, David Maples, Jim Staahl, Jess Winfield
Animation production by: Toon City Animation, Inc.
Unit coordinators: Wayne Smith, Robert Clark
Production manager: Weng Agrusa
Assistant animation supervisor: Nowell Villano
Layout supervisor: Levy Vergara
Layout artists: Aldrin Abesamis, Glenn Canada, Luis Bernardo, Vincente Catan Jr., Archie Bolina, Moises Macasinag, Gener De Ocampo, Steve Gan Santos, Agapito Delos Santos, Lito Soltura, Brenda Garcia, Larry Santiago, Jeffrey Jimenez, Emmanuel Zamora, Renato Maglalang, Matthew Sawal, Joddie Lopez, Clemente Rivera, Romy Tuano
Animators: Delfin Abad, Chris Anacin, Glenn Arriola, Joseph Balderas, Anthony Benitez, Ric Bernardo, Antonio Bugas, Edgar Bugas, Arnold Collao, Arnold Coniconde, Noel De Leon, Agnes De Vera, Noel Domingo, Roody Erenio, Romeo Fabian, Bienifer Flores, Akiblas Flores, Gilbert Francisco, Donato Gallon, Boy Lacampuenga, Wilfredo Leonardo, Alexander Lorena, Manuel Magsaysay, Mark Malonjao, Salvador Marcos, Robert Ocon, Joel Pangilinan, Rowen Pingkian, Ruel Ramos, Oliver Regoniel, Alan Reyes, Warren Romero, Edwin Santiago, Rommel Santiago, Lorna Sun, William Sy, Francis Tan, David Temperante, Joseph Villanueva, Danilo Wabe, Rolando Angelo, Jebbie Barrios, Ricardo Borja, Florencio Concepcion, Dennis Coniconde, James Diores, Edelson Eugenio, Ma. Dina Fabian, Allan Fernando, Alexander Ferrarez, Cynthia Javier, Don Juan, Nonoy Lustria, Maciste Natividad, Vladimir Naval, Larry Pagcaliwangan, Nomer Panlaqui, Edmond Plantilla, Emmanuel Plantilla, Roger Quilatan, Jojo Reynon, Arthur Tolentino, Richmond Zunio
Background supervisor: Alex Leal
Background artists: Arnold Alcantara, Mila Dominador, Arnaldo Caranto, Margarito Jamilano, Rolly Caranto, Romano Joaquin, Monette Cordero, Matthius Garcia
Clean-up / inbetween supervisor: Alan Coniconde
Clean-up checkers: Ramil Gonzaga, Enrico Paz
Videofakta
Teacher's Pet
har hittills (juni 2008) varken getts ut på video eller visats på bio i Sverige. Den har dock visats några gånger på tv i Kanal 5 och TV4. Filmen finns på video och DVD i bl.a. USA och England.
Extramaterial på den amerikanska DVD-utgåvan:
Deleted scenes
"The art of Gary Baseman"
Music video performed by Christy Carlson Romano
Disney's song selection
Premiärdatum
Urpremiär på bio i USA den 16 januari 2004
På video och DVD i USA och Canada den 15 juni 2004
På video och DVD i Storbritannien den 6 september 2004
Svensk premiär på Kanal 5 den 7 april 2007
Övrigt
Titelsången
Teacher's Pet
sjöngs ursprungligen av Doris Day i en spelfilm från 1958 med samma titel (
Frökens favorit
på svenska). Sången blev en stor hit på 50-talet. Förutom den engelska titeln och sången har de båda filmerna inget gemensamt.
Tv-serien En jycke i klassen hade amerikansk premiär den 9 september 2000 och svensk premiär på SVT1 den 25 augusti 2001.
Bilder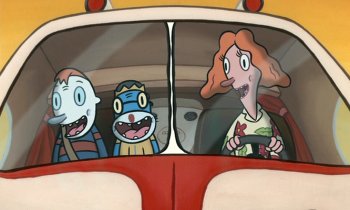 I husbilen är hundar strängt förbjudna, men Spot lyckas få följa med till Florida genom att låtsas vara pojken Scott. © Disney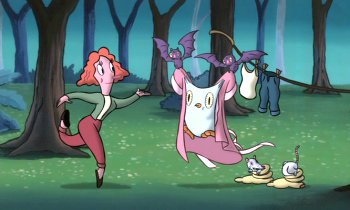 Teacher's Pet innehåller hundratals visuella skämt. Många av dem parodierar Disneys klassiska tecknade långfilmer, som här Törnrosa. © Disney
Källor
Disney,
Teacher's Pet
(DVD-film, region 1), Buena Vista Home Entertainment Burbank California 2004
Smith,
Supplement to "Disney A to Z the Updated Official Encyclopedia"
, 2005
Disney Magazine
, New York NY, 2004
The Internet Movie Database,
http://www.imdb.com/
Statens ljud- och bildarkiv,
http://www.slba.se/
---
Texten på denna sida © 2005, 2008 Anders M Olsson,
[email protected]
. Bilder från
Teacher's Pet
© Disney. Sidan senast uppdaterad den 28 juni 2008.