Tarzan 2
Tarzan II (2005)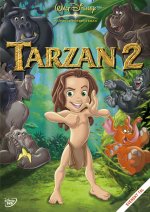 DVD-omslag från 2005. VHS-utgåvan har samma omslagsbild. © Edgar Rice Burroughs, Inc. och Disney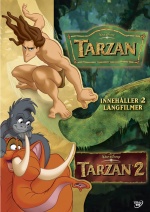 DVD-box innehållande båda Tarzan-filmerna © Edgar Rice Burroughs, Inc. och Disney
I ett nyskrivet kapitel ur Tarzans barndomshistoria får vi vara med om en serie händelser som formade hans karaktär.
Den unge Tarzan känner sig utstött av sin gorillaflock. När gorillorna tror att Tarzan har omkommit i en olycka bryr han sig inte om att gå tillbaka till flocken. I stället ger sig Tarzan iväg på egen hand. Under sin vandring träffar han en excentrisk gorillafamilj med en äldre mamma och två vuxna söner som bor i en ogästvänlig dalgång. Sönerna mobbar först Tarzan, men blir mindre kaxiga när de får se skuggan av Zugor, ett monster som bevakar den enda vägen ut från dalen. På flykt från monstret träffar Tarzan en vrång eremitapa som tycks trivas bäst utan kontakt med omvärlden. Tarzan upptäcker eremitens stora hemlighet, och det leder så småningom till vänskap mellan de två...
Tarzan 2 är en uppföljare som utspelar sig under en period som hoppades över i den första filmen. På engelska finns ett speciellt ord för fenomenet – det kallas "midquel".
Röster
Engelska originalröster
Tarzan
...
Harrison Chad
Zugor
...
George Carlin
Uto
...
Brad Garrett
Kago
...
Ron Perlman
Mama Gunda
...
Estelle Harris
Kala
...
Glenn Close
Kerchak
...
Lance Henriksen
Terk
...
Brenda Grate
Tantor
...
Harrison Fahn
Tonka
...
Connor Hutcherson
samt
...
Hamilton Camp, Baron Davis, Ashlyn Matheus, Connor Matheus, Iona Morris, Patty Parris, Lori Tritel, April Winchell
Svenska röster
Tarzan
...
Davide Bellman
Zugor
...
Pierre Lindstedt
Uto
...
Johan Jern
Kago
...
Jan Åström
Mamma Gunda
...
Anita Wall
Kala
...
Sara Lindh
Kerchak
...
Torsten Wahlund
Tufs
...
Charlott Strandberg
Tantor
...
Isidor Beslik-Löfdahl
samt
...
Sam Molavi, Daniel Melén, Lina Lindholm, Charlotte Ardai Jennefors, Monica Silverstrand, Annica Smedius, Dick Eriksson, Adam Fietz, Ole Ornered, Emilie Clausen, Mikaela Ardai Jennefors, Amanda Jennefors, Alma Lindström, Arvid Lindström, Sara Dawn Finer, Awa Manneh, Lilling Palmeklint, Louise Fält, Peter Getz, Charlie King, Magnus Lange, Oscar Nilsson
Sånger
"Människa" / "Son of Man"
Text och musik: Phil Collins
Svensk text: Monica Forsberg
Sång: Phil Collins
Svensk sång: Pelle Ankarberg
"Jag måste gå" / "Leaving Home (Find My Way)"
Text och musik: Phil Collins
Svensk text: Vicki Benckert
Sång: Phil Collins
Svensk sång: Pelle Ankarberg
"Vem är jag?" / "Who Am I?"
Text och musik: Phil Collins
Svensk text: Vicki Benckert
Sång: Phil Collins
Kör och kompletterande slagverk: Little Dreams Band under ledning av Paul Sutin
Kompletterande kör: Bill Cantos, Lynn Fiddmont, Connie Jackson, Amy Keys, Arnold McCuller
Svensk sång: Pelle Ankarberg
"Who Am I?" (End credit version)
Text och musik: Phil Collins
Sång: Tiffany Evans
Produktion och arrangemang: Matthew Gerrard
Svensk produktion
Dialogregissör: Joakim Jennefors
Dialogöversättning: Joakim Jennefors (Mediaplant)
Sånginstruktör: Joakim Jennefors
Sångöversättning: Vicki Benckert (Mediaplant)
Inspelningsstudio: Sun Studio
Inspelningstekniker: Johan Lejdemyr
Projektledare: Anna Lundström
Studioproducent: Svend Christiansen
Kreativ ledning: Kirsten Saabye
Ansvarig utgivare: Mats Caneman, Buena Vista International (Sweden) AB
Svensk version producerad av: Disney Character Voices International, Inc.
Produktionsfakta
Directed by: Brian Smith
Produced by: Carolyn Bates
Based on the "Tarzan" stories created by: Edgar Rice Burroughs
Screenplay by: Jim Kammerud, Brian Smith, Bob Tzudiker, Noni White
Score composed by: Mark Mancina, Dave Metzger
Co-producers: Jim Kammerud, Leslie Hough
Unit directors: Alexs Stadermann, Andrew Collins
Unit producer: Kara Lord
Voice casting and dialogue director: Jamie Thomason
Art directors: Bill Perkins, Joaquim Royo Morales, Lin Hua Zheng
Film editor: John Royer
Digital producer: Doug Little
Technical director: Charlie Luce
Production managers: Joe Crowley, Dan Forster, Jill Brandt
Production supervisor: Keiji Kishi
Character design: Sergio Pablos
Workbook supervisor: Steve Lumley
Layout directors: Olivier Adam, Jean Christophe Poulain, Julio Leon
Animation supervisors: Pieter Lommerse, Andreas Wessel-Therhorn
Effects supervisor: Julian Hynes
CGI supervisor: Matthew Jones
Background supervisor: Beverley McNamara
Clean-up supervisor: Nicola Flynn
Inbetween supervisor: Michael Pattison
Scene planning & composite supervisor: Richard Turner
Digital director: Damian Temporale
Additional story material by: Evan Spiliotopoulos, Rhett Reese
Story artists: Charlie Bonifacio, Chris Butler, Tod Carter, Stefan Fjeldmark, Marty Fuller, Kirk Hanson, Mike Lester, Linda Miller, Jesper Møller, Frank Nissen, Rodrigo Perez-Castro, Dean Roberts, Dan Root, Bobby Rubio, David Spafford, Clint Taylor
Storyboard revisions: Robb Pratt
Character design: Michael Cedeno, Dan Haskett, Borja Montoro, Maria Pagan, Dean Roberts, Pedro Perez
Location design: Johan Klingler, David Krentz, Julio Leon, Poe K. Tan
Key color stylist: Laura Beth Albright
Background design: Paul Cheng, Gary Eggleston, Dean Gordon, Ellen Jin, Bill Lorenz, Colin Stimpson, Bi Wei Tronolone
Prop design: Martin C. Warren
Workbook artists: Kevin Adams, Shawn Colbeck, James Finch, Peter DeLuca, Felipe Morell, Mark Sonntag
Lead layout artist: Marc Camelbeke
Senior layout artists: Nicholas Pill, Vic Villacorta, Yoshiko Barry, Andrew Wolf
Layout artists: Rasoul Azadani, Alexander McCrae, Mitch Bernal, Alex Casin, Vincenzo Nisco, Abeth Dela Cruz, Jim Schlenker, Zhiqiang Ding, Tim Soman, Mina Ho Ferrante, Lisa Souza, Ed Ghertner, Allen Tam, Jason Hand, Tanya Wilson, Daniel McHugh, Jennifer Yuan
CGI layout: Yong-Hong Zhong
Timing directors: JK Kim, Terry Lennon, Burton Medall
Supervising animators: Pieter Lommerse, Ian Harrowell, Bernard Derriman, Andrew Collins, Marc Wasik
Senior animators: Davide Benvenuti, Manny Banados, Simon Ashton, Robert Mason, Lianne Hughes, Andries Maritz, Adam Murphy
Animators: Michael Badman, Brian Estanislao, Satjit Matharu, Gie Santos, Tobias Schwarz, Jocelyn Sy, Donald Walker, David Wilkinson, Samantha Youssef, Richard Bailey, Lily Dell, Warwick Gilbert, Hiromi Kakinuma, Dawn Lau, Rizaldy Valencia, Nadine Wagner-Westerbarkey, Stephen Baker, Nancy Beiman, Andrew Brooks, Deborah Cameron, Tom Caulfield, Federico Ferrari, Allan Fernando, Kathie O'Rourke, Kevin Wotton, Donna Brockopp, Manuk Chang, Rowena Hamlyn-Aspden, James McGinlay, Florian Wagner, Marco Zanoni
Assistant animators: Kayn Garcia, Tristan Balos, Jonathan Dower
Additional animation: Joseph Haidar, Robb Pratt, Steven P. Gordon, Bill Waldman, Scott Petersen, Theresa Wiseman
Videofakta
Angiven speltid: 68 min
Åldersgräns: Tillåten från 7 år
2005 års VHS-utgåva
Ljud: Hifi stereo, svenskt tal
Bildformat: Letterbox, c:a 1,66:1
EAN-kod: 7 393834 529407
Distribution: Buena Vista Home Entertainment
2005 och 2010 års DVD-utgåvor
Språk i Dolby Digital 5.1: Svenska, finska, engelska, isländska
Textade språk: Svenska, finska, engelska, isländska samt engelska för personer med nedsatt hörsel
Bildformat: 16:9 – 1,78:1
Antal skivor: 1
Regionskod: 2
EAN-kod: 7 393834 530205
EAN-kod, DVD-box med båda Tarzan-filmerna: 7 393834 538904
Distribution (2005): Buena Vista Home Entertainment
Distribution (2010): Walt Disney Studios Home Entertainment
Extramaterial:
Härmapor – spel
Musikvideo
Tufs och Tantors djungelguide
Bakom kulisserna
Premiärdatum
Urpremiär på video och DVD (region 1, USA o Canada) den 14 juni 2005
Svensk premiär på video och DVD den 24 augusti 2005
Även utgiven i samlingsbox (DVD) tillsammans med Tarzan den 24 augusti 2005
Ny DVD-utgåva den 18 augusti 2010 (samma som 2005 års utgåva)
Bilder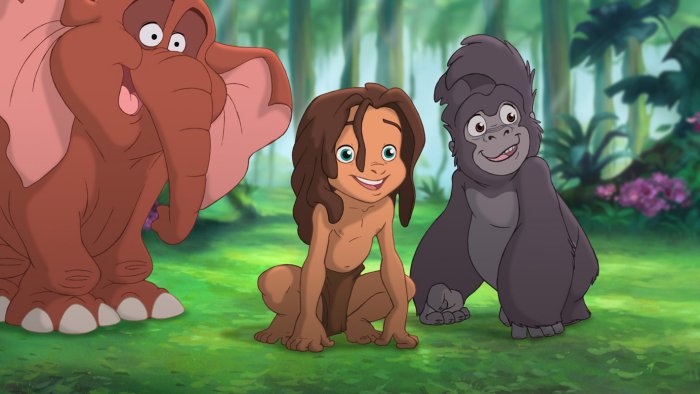 Tarzan med sina vänner Tantor och Tufs. (Klicka på bilden för att se den i större format!) © Edgar Rice Burroughs, Inc. och Disney.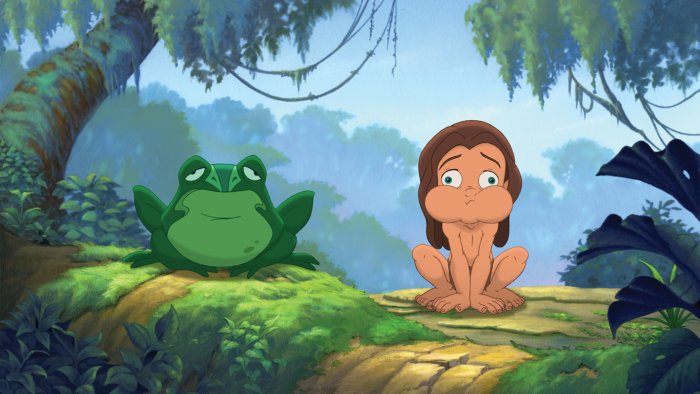 Tarzan har svårt att finna sig tillrätta i djungeln, och han tvivlar på vem och vad han är. (Klicka på bilden för att se den i större format!) © Edgar Rice Burroughs, Inc. och Disney.
Källor
Buena Vista Home Entertainment, Stockholm 2005
Disney, Tarzan 2 (DVD-film), Buena Vista Home Entertainment, Stockholm 2005
Disney, Tarzan 2 (DVD-film), Walt Disney Studios Home Entertainment, Stockholm 2010
Disney, Tarzan 2 (VHS-film), Buena Vista Home Entertainment, Stockholm 2005
The Internet Movie Database, http://www.imdb.com/
---
Texten på denna sida © 2005, 2006, 2010, 2012 Anders M Olsson, [email protected]. Bilder från Tarzan 2 © Edgar Rice Burroughs, Inc. och Disney. Sidan senast uppdaterad den 28 juli 2012.